Search the thousands of Mets players, managers, coaches, executives, minor leaguers, and opposing players who are contained in our database.
Cleon Jones
Inducted into the New York Mets Hall of Fame, 1991
Ultimate Mets Database popularity ranking: 16 of 1043 players
Cleon Joseph Jones
Born: August 4, 1942 at Plateau, Ala.
Throws: Left Bats: Right
Height: 6.00 Weight: 190

Cleon Jones has been the most popular Ultimate Mets Database daily lookup 50 times, most recently on December 27, 2017.



First Mets game: September 14, 1963
Last Mets game: July 18, 1975






Signed with New York Mets as a free agent on July 5, 1962.

Released by the New York Mets on July 27, 1975.
On disabled list from April 5, 1975 to May 27, 1975 (knee injury).
Established a Mets season record for Stolen Bases in 1966 with 16 and in 1968 with 23.

Tied Mets season record of 8 Sacrifice Flies in 1973. Record was previously set by Ed Kranepool in 1965 and tied by Bud Harrelson in 1970. Broken by Rusty Staub in 1975 with 9.

Established a Mets season record for Grounded into Double Play in 1970 with 26. Broken by Mike Piazza in 1999 with 27.

Minor League Batting Record
| | | | | | | | | | | | | | | | | | | | | | |
| --- | --- | --- | --- | --- | --- | --- | --- | --- | --- | --- | --- | --- | --- | --- | --- | --- | --- | --- | --- | --- | --- |
| Year | Team | G | AB | R | H | 2B | 3B | HR | RBI | BB | IBB | SO | HBP | SB | CS | SH | SF | TB | Avg. | Slg. | OBP |
| 1963 | Raleigh (A) | 49 | 177 | 28 | 54 | 5 | 6 | 2 | 23 | 31 | -- | 41 | 1 | 20 | 2 | 0 | 0 | 77 | .305 | .435 | .412 |
| 1963 | Auburn (A) | 14 | 50 | 19 | 18 | 1 | 3 | 1 | 6 | 9 | -- | 11 | 0 | 4 | 0 | 0 | 0 | 28 | .360 | .560 | .458 |
| 1964 | Buffalo (AAA) | 137 | 500 | 96 | 139 | 22 | 6 | 16 | 70 | 45 | -- | 92 | 3 | 12 | 2 | 2 | 6 | 221 | .278 | .442 | .338 |
| 1965 | Buffalo (AAA) | 123 | 454 | 61 | 122 | 15 | 3 | 15 | 49 | 33 | -- | 77 | 2 | 14 | 8 | 3 | 0 | 188 | .269 | .414 | .321 |
Cleon Jones played for the following teams in the Mets organization:
Auburn Mets 1963; Raleigh Mets 1963; Buffalo Bisons 1964, 1965
Games played by position

1964: Buffalo (AAA): Outfield 130
1965: Buffalo (AAA): Outfield 120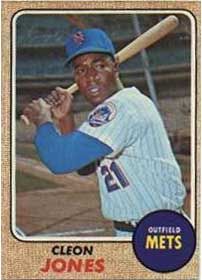 1968 Cleon Jones
Copyright 1999-2018, The Ultimate Mets Database