Share your memories of Johnny Stephenson
HERE IS WHAT OTHER METS FANS HAVE TO SAY:
Bob Hackett
Final victim in Jim Bunning's perfect game (a strike out). A nice guy who still manages in the Mets system at Columbia SC.
Gene
May 13, 2003

Just got mentioned (5/4/03) on the TV show 'American Dreams.' They were running a clip of Bunning's perfect game, and played the call of the final out.
Mark Eckert
July 12, 2006

Johnny Stevenson hit a pinch-hit home run against the Giants in the 9th inning at Shea in 1966 -- I think it was a three run homer -- to tie the game. Ron Swoboda followed with the game winning homer, which they didn't call a walk-off back then. If you ever see the official 1966 Mets highlight film, it opens with film of the original broadcast of Swoboda's homer, announced by Lindsey Nelson.
Bob P
August 19, 2006

Further to Mark Eckert's comment above, Stephenson's home run in 1966 against the Giants came in the bottom of the eighth inning with one out and Jerry Grote on second, and the home run made the score Giants 6, Mets 3. John was pinch-hitting for Dallas Green in what would be Green's last appearance in a Mets uniform (as a player, that is!).

The Mets scored another run in the eighth on a Larry Elliot single and then added one more when Ken Boyer homered leading off the ninth to make it 6-5. With Ron Hunt and Stephenson on base, Ron Swoboda hit the three- run homer to win it, 8-6.
Jamey Bumbalo
January 24, 2007

Johnny Stephenson is a good example of a back-up catcher who couldn't hit (.216 career average) but lasted in the major leagues for a while--in his case, 10 years. His 1966 baseball card reports that in 1963 (while in the minors) he had a broken finger and ended up playing the outfield for much of the season.
Edgy DC
January 24, 2007

Johnny is featured on a 16-foot mural in Portsmouth, Ohio (though he was born in South Portsmouth, Kentucky), wearing his Mets uniform.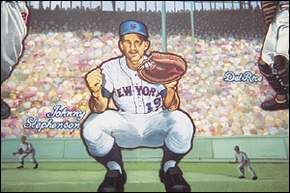 Detail from mural in Portsmouth, Ohio
Howie Gallaher
September 2, 2016

He is my uncle and he is from South Portsmouth, Ky. The mural he is on is in Portsmouth, Ohio which is right across the river from South Portsmouth, hence the name. It is painted on the flood wall on the banks of the Ohio River. There is no flood wall on the Kentucky side.