Search the thousands of Mets players, managers, coaches, executives, minor leaguers, and opposing players who are contained in our database.
Tug McGraw
Inducted into the New York Mets Hall of Fame, 1993
Ultimate Mets Database popularity ranking: 9 of 1043 players
Frank Edwin McGraw
Born: August 30, 1944 at Martinez, Cal.
Died: January 5, 2004 at Nashville, Tenn.
Throws: Left Bats: Right
Height: 6.01 Weight: 185

Tug McGraw has been the most popular Ultimate Mets Database daily lookup 256 times, most recently on November 22, 2017.



First Mets game: April 18, 1965
Last Mets game: September 28, 1974

Brother of Henry McGraw







Winner of National League Player of the Week award, June 17, 1973, September 1, 1974. (New York Mets)
On disabled list from May 16, 1974 to June 10, 1974 (strained back muscle).
Established a Mets season record for Saves in 1972 with 27. Broken by Jesse Orosco in 1984 with 31.

Minor League Pitching Record
| | | | | | | | | | | | | | | | | | |
| --- | --- | --- | --- | --- | --- | --- | --- | --- | --- | --- | --- | --- | --- | --- | --- | --- | --- |
| Year | Team | G | IP | W | L | Pct. | H | R | ER | HR | SO | BB | GS | CG | ShO | Sv | ERA |
| 1964 | Florida (Rookie) | 8 | 47.0 | 5 | 2 | 0.714 | 12 | 11 | 8 | 1 | 52 | 37 | 5 | 5 | 1 | -- | 1.53 |
| 1964 | Auburn (A) | 3 | 19.0 | 1 | 2 | 0.333 | 17 | 12 | 4 | 0 | 14 | 15 | 3 | 1 | 0 | -- | 1.89 |
| 1966 | Jacksonville (AAA) | 11 | 32.0 | 2 | 2 | 0.500 | 34 | 16 | 15 | 5 | 38 | 9 | 6 | 1 | 1 | -- | 4.22 |
| 1967 | Jacksonville (AAA) | 22 | 167.0 | 10 | 9 | 0.526 | 111 | 39 | 37 | 12 | 161 | 55 | 21 | 14 | 3 | -- | 1.99 |
| 1968 | Jacksonville (AAA) | 24 | 166.0 | 9 | 9 | 0.500 | 149 | 70 | 63 | 10 | 132 | 61 | 23 | 10 | 2 | -- | 3.42 |
Minor League Batting Record
| | | | | | | | | | | | | | | | | | | | | | |
| --- | --- | --- | --- | --- | --- | --- | --- | --- | --- | --- | --- | --- | --- | --- | --- | --- | --- | --- | --- | --- | --- |
| Year | Team | G | AB | R | H | 2B | 3B | HR | RBI | BB | IBB | SO | HBP | SB | CS | SH | SF | TB | Avg. | Slg. | OBP |
| 1964 | Florida (Rookie) | 9 | 19 | 3 | 6 | 1 | 1 | 0 | 3 | 0 | 0 | 6 | 0 | 0 | 0 | 2 | 0 | 9 | .316 | .474 | .316 |
| 1964 | Auburn (A) | 3 | 5 | 0 | 0 | 0 | 0 | 0 | 0 | 0 | 0 | 3 | 0 | 0 | 0 | 4 | 0 | 0 | .000 | .000 | .000 |
| 1966 | Jacksonville (AAA) | 11 | 8 | 1 | 2 | 0 | 0 | 0 | 0 | 0 | 0 | 1 | 0 | 0 | 0 | 1 | 0 | 2 | .250 | .250 | .250 |
| 1967 | Jacksonville (AAA) | 28 | 54 | 6 | 12 | 1 | 0 | 1 | 7 | 5 | -- | 12 | 0 | 1 | 2 | 4 | 0 | 16 | .222 | .296 | .288 |
| 1968 | Jacksonville (AAA) | 32 | 61 | 3 | 12 | 0 | 0 | 1 | 6 | 3 | -- | 10 | 0 | 0 | 0 | 2 | 0 | 15 | .197 | .246 | .234 |
Tug McGraw played for the following teams in the Mets organization:
Auburn Mets 1964; Florida Mets 1964; Jacksonville Suns 1966 - 1968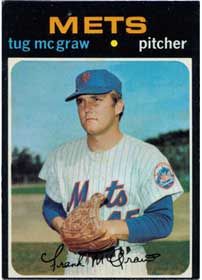 1971 Tug McGraw
| | | | | | |
| --- | --- | --- | --- | --- | --- |
| | Meet the Mets | Games | Stats | Metscellaneous | About Us |
Copyright 1999-2017, The Ultimate Mets Database