Search the thousands of Mets players, managers, coaches, executives, minor leaguers, and opposing players who are contained in our database.
George Theodore
Ultimate Mets Database popularity ranking: 97 of 1043 players
George Basil Theodore
Born: November 13, 1946 at Salt Lake City, Utah
Throws: Right Bats: Right
Height: 6.05 Weight: 195

George Theodore has been the most popular Ultimate Mets Database daily lookup 12 times, most recently on November 13, 2015.



First Mets game: April 14, 1973
Last Mets game: October 2, 1974






Selected by New York Mets organization in 31st round of free agent draft on June 5, 1969.
Minor League Batting Record
| | | | | | | | | | | | | | | | | | | | | | |
| --- | --- | --- | --- | --- | --- | --- | --- | --- | --- | --- | --- | --- | --- | --- | --- | --- | --- | --- | --- | --- | --- |
| Year | Team | G | AB | R | H | 2B | 3B | HR | RBI | BB | IBB | SO | HBP | SB | CS | SH | SF | TB | Avg. | Slg. | OBP |
| 1969 | Marion (Rookie) | 2 | 5 | 0 | 1 | 0 | 0 | 0 | 1 | 2 | -- | 0 | 0 | 1 | 0 | 0 | 0 | 1 | .200 | .200 | .429 |
| 1969 | Pompano Beach (A) | 53 | 166 | 28 | 47 | 9 | 5 | 1 | 23 | 31 | -- | 18 | 0 | 4 | 0 | 1 | 3 | 69 | .283 | .416 | .390 |
| 1970 | Visalia (A) | 123 | 454 | 68 | 140 | 15 | 1 | 14 | 69 | 48 | -- | 77 | 5 | 9 | 9 | 1 | 1 | 199 | .308 | .438 | .380 |
| 1971 | Visalia (A) | 113 | 438 | 112 | 146 | 16 | 5 | 28 | 113 | 59 | -- | 54 | 6 | 15 | 2 | 1 | 3 | 256 | .333 | .584 | .417 |
| 1971 | Memphis (AA) | 11 | 29 | 4 | 5 | 1 | 0 | 0 | 1 | 6 | -- | 6 | 1 | 1 | 0 | 0 | 0 | 6 | .172 | .207 | .333 |
| 1972 | Tidewater (AAA) | 143 | 510 | 78 | 151 | 15 | 7 | 9 | 78 | 54 | -- | 63 | 6 | 3 | 4 | 3 | 6 | 207 | .296 | .406 | .366 |
| 1975 | Tidewater (AAA) | 106 | 285 | 39 | 72 | 3 | 0 | 5 | 25 | 29 | -- | 35 | 3 | 9 | 3 | 4 | 0 | 90 | .253 | .316 | .328 |
George Theodore played for the following teams in the Mets organization:
Marion Mets 1969; Pompano Beach Mets 1969; Visalia Mets 1970, 1971; Memphis Blues 1971; Tidewater Tides 1972, 1975
Games played by position

1969: Marion (Rookie): Outfield 2
1971: Memphis (AA): First Base 6
1972: Tidewater (AAA): First Base 143, Outfield 1
1975: Tidewater (AAA): Outfield 64, First Base 11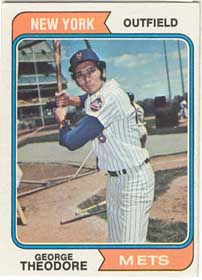 1974 George Theodore
| | | | | | |
| --- | --- | --- | --- | --- | --- |
| | Meet the Mets | Games | Stats | Metscellaneous | About Us |
Copyright 1999-2017, The Ultimate Mets Database