Search the thousands of Mets players, managers, coaches, executives, minor leaguers, and opposing players who are contained in our database.
Bruce Boisclair
Ultimate Mets Database popularity ranking: 55 of 1043 players
Bruce Armand Boisclair
Born: December 9, 1952 at Putnam, Conn.
Throws: Left Bats: Left
Height: 6.03 Weight: 195

Bruce Boisclair has been the most popular Ultimate Mets Database daily lookup 14 times, most recently on June 7, 2012.



First Mets game: September 11, 1974
Last Mets game: September 30, 1979






Selected by New York Mets organization in 20th round of free agent draft on June 4, 1970.

Released by the New York Mets on April 1, 1980.
On disabled list from July 9, 1979 to September 7, 1979 (fractured right wrist).
Minor League Batting Record
| | | | | | | | | | | | | | | | | | | | | | |
| --- | --- | --- | --- | --- | --- | --- | --- | --- | --- | --- | --- | --- | --- | --- | --- | --- | --- | --- | --- | --- | --- |
| Year | Team | G | AB | R | H | 2B | 3B | HR | RBI | BB | IBB | SO | HBP | SB | CS | SH | SF | TB | Avg. | Slg. | OBP |
| 1970 | Marion (Rookie) | 40 | 117 | 15 | 33 | 5 | 2 | 0 | 10 | 10 | -- | 33 | 0 | 6 | 1 | 2 | 1 | 42 | .282 | .359 | .336 |
| 1971 | Pompano Beach (A) | 129 | 401 | 64 | 108 | 18 | 4 | 0 | 47 | 45 | -- | 99 | 3 | 20 | 2 | 8 | 2 | 134 | .269 | .334 | .346 |
| 1972 | Visalia (A) | 88 | 328 | 64 | 114 | 19 | 4 | 4 | 32 | 29 | -- | 69 | 3 | 16 | 2 | 2 | 1 | 153 | .348 | .466 | .404 |
| 1973 | Memphis (AA) | 19 | 63 | 10 | 13 | 2 | 0 | 1 | 7 | 15 | -- | 21 | 1 | 2 | 0 | 0 | 1 | 18 | .206 | .286 | .362 |
| 1973 | Tidewater (AAA) | 80 | 243 | 31 | 62 | 11 | 0 | 2 | 23 | 25 | -- | 59 | 1 | 7 | 3 | 3 | 4 | 79 | .255 | .325 | .322 |
| 1974 | Tidewater (AAA) | 107 | 297 | 27 | 71 | 8 | 4 | 5 | 31 | 44 | -- | 73 | 2 | 10 | 1 | 2 | 2 | 102 | .239 | .343 | .339 |
| 1975 | Tidewater (AAA) | 127 | 453 | 62 | 126 | 16 | 5 | 4 | 37 | 54 | -- | 94 | 2 | 20 | 7 | 5 | 2 | 164 | .278 | .362 | .356 |
Minor League Pitching Record
| | | | | | | | | | | | | | | | | | |
| --- | --- | --- | --- | --- | --- | --- | --- | --- | --- | --- | --- | --- | --- | --- | --- | --- | --- |
| Year | Team | G | IP | W | L | Pct. | H | R | ER | HR | SO | BB | GS | CG | ShO | Sv | ERA |
| 1970 | Marion (Rookie) | 1 | 4.0 | 0 | 0 | 0.000 | 7 | 5 | 5 | 0 | 1 | 2 | 0 | 0 | 0 | 0 | 11.25 |
Bruce Boisclair played for the following teams in the Mets organization:
Marion Mets 1970; Pompano Beach Mets 1971; Visalia Mets 1972; Tidewater Tides 1973 - 1975; Memphis Blues 1973
Games played by position

1970: Marion (Rookie): Outfield 33
1973: Tidewater (AAA): Outfield 80; Memphis (AA): Outfield 11, First Base 7
1974: Tidewater (AAA): Outfield 99, First Base 2
1975: Tidewater (AAA): Outfield 120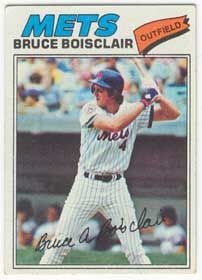 1977 Bruce Boisclair
| | | | | | |
| --- | --- | --- | --- | --- | --- |
| | Meet the Mets | Games | Stats | Metscellaneous | About Us |
Copyright 1999-2017, The Ultimate Mets Database