Search the thousands of Mets players, managers, coaches, executives, minor leaguers, and opposing players who are contained in our database.
Josh Satin
Ultimate Mets Database popularity ranking: 922 of 1043 players
Joshua Satin
Born: December 23, 1984 at Hidden Hills, Cal.
Throws: Right Bats: Right
Height: 6.02 Weight: 200

Josh Satin was the most popular Ultimate Mets Database daily lookup on March 16, 2014.



First Mets game: September 4, 2011
Last Mets game: September 25, 2014






Selected by New York Mets organization in sixth round of free agent draft on June 5, 2008.

Signed with Cincinnati Reds as a free agent on November 20, 2014.
Minor League Batting Record
| | | | | | | | | | | | | | | | | | | | | | |
| --- | --- | --- | --- | --- | --- | --- | --- | --- | --- | --- | --- | --- | --- | --- | --- | --- | --- | --- | --- | --- | --- |
| Year | Team | G | AB | R | H | 2B | 3B | HR | RBI | BB | IBB | SO | HBP | SB | CS | SH | SF | TB | Avg. | Slg. | OBP |
| 2008 | Kingsport (Rookie) | 3 | 12 | 3 | 7 | 2 | 0 | 1 | 2 | 1 | 0 | 2 | 0 | 0 | 0 | 0 | 0 | 12 | .583 | 1.000 | .615 |
| 2008 | Brooklyn (A) | 45 | 143 | 21 | 40 | 10 | 2 | 4 | 13 | 16 | 0 | 28 | 0 | 0 | 1 | 4 | 1 | 66 | .280 | .462 | .350 |
| 2009 | Savannah (A) | 125 | 440 | 62 | 125 | 38 | 0 | 7 | 60 | 73 | 1 | 103 | 2 | 0 | 3 | 0 | 5 | 184 | .284 | .418 | .385 |
| 2009 | St. Lucie (A) | 7 | 22 | 6 | 8 | 2 | 0 | 1 | 5 | 5 | 0 | 7 | 0 | 0 | 0 | 0 | 1 | 13 | .364 | .591 | .464 |
| 2010 | St. Lucie (A) | 58 | 209 | 27 | 66 | 15 | 0 | 5 | 35 | 30 | -- | 50 | -- | 1 | 5 | 1 | 2 | 96 | .316 | .459 | .406 |
| 2010 | Binghamton (AA) | 79 | 286 | 49 | 88 | 24 | 1 | 7 | 39 | 36 | -- | 71 | -- | 1 | 0 | 0 | 3 | 135 | .308 | .472 | .395 |
| 2011 | Binghamton (AA) | 94 | 338 | 60 | 110 | 35 | 2 | 11 | 60 | 57 | -- | 91 | -- | 2 | 2 | 0 | 5 | 182 | .325 | .538 | .423 |
| 2011 | Buffalo (AAA) | 38 | 145 | 17 | 46 | 8 | 0 | 1 | 16 | 14 | -- | 33 | -- | 1 | 2 | 0 | 0 | 57 | .317 | .393 | .381 |
| 2012 | Buffalo (AAA) | 131 | 441 | 72 | 126 | 25 | 1 | 14 | 60 | 77 | -- | 109 | -- | 3 | 4 | 0 | 6 | 195 | .286 | .442 | .391 |
| 2013 | Las Vegas (AAA) | 60 | 220 | 46 | 67 | 14 | 0 | 9 | 32 | 43 | -- | 45 | -- | 0 | 2 | 0 | 0 | 108 | .305 | .491 | .420 |
| 2014 | Las Vegas (AAA) | 100 | 374 | 50 | 108 | 27 | 1 | 9 | 49 | 61 | 0 | 79 | 1 | 1 | 3 | 4 | 4 | 164 | .289 | .439 | .386 |
Josh Satin played for the following teams in the Mets organization:
Brooklyn Cyclones 2008; St. Lucie Mets 2009, 2010; Savannah Sand Gnats 2009; Binghamton Mets 2010, 2011; Buffalo Bisons 2011, 2012; Las Vegas 51s 2013, 2014
Games played by position

2013: Las Vegas (AAA): First Base 48
2014: Las Vegas (AAA): Third Base 59, First Base 25, Second Base 17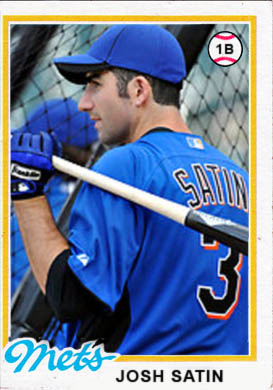 1978 Josh Satin
| | | | | | |
| --- | --- | --- | --- | --- | --- |
| | Meet the Mets | Games | Stats | Metscellaneous | About Us |
Copyright 1999-2017, The Ultimate Mets Database