Share your memories of Sid Fernandez
HERE IS WHAT OTHER METS FANS HAVE TO SAY:
Mike Welch
Sid was a fantastic pitcher. I'll never forget the incredible movement he had on the ball. His velocity was never great - I don't think he even reached the nineties, but his movement was so erratic that hitters had a hard time with him. A rare lefty who was tougher on right handed hitters. Would have been great except for his propensity to somehow manage to surrender crucial runs at the wrong time.
Andy Michal
If it wasn't for Sid's innings in Game 7 in 1986, they never would have been able to come back to win. He did a great job.
Adam Seidner
I was always a big fan of big Sid. When he was on his game, the way he blew the high fastball by everybody was something to see.
Christina Fernandez(no relation)
I'll never forget that incredible game in 1989 against the Atlanta Braves when Sid struck out 16 batters. He was just unbelievable. It was a shame that the 2-2 tie he took into the bottom of the ninth of such a pitching performance was shattered by Lonnie Smith's home run, who Sid had already struck out three times. Sid Fernandez will always be my alltime favorite Met.
flushingflash
I always believed that Sid Fernandez would be the first Met pitcher to throw a no-hitter. Fat Sid had that slow windup and that great rising fastball that was untouchable for about six innings. Then in the seventh he'd invariably give up a 450-foot home run to somebody and completely lose his composure.

I remember before he started Game 4 of the 1986 NLCS against Mike Scott one of the radio stations in New York dedicated Cyndi Lauper's "True Colors" to him, hoping he would show his that night. He did, but the Mets lost 3-1. But he kicked ass in the World Series and remains one of the Mets' best starters ever.
murphy
Sid was the most dominating pitcher for the first six innings of a game. He would constantly take no- hitters, 1-hitters and 2-hitters into the 7th. Then he would walk a couple of guys...give up a big hit...and he'd be in a struggle. The most unorthodox delivery I've ever seen. Sid and Benny Agbayani are the only members of the Hawaiian All Star team. Go Big 50.
Big E
Sid was long my favorite Met, because he was built like me. I remember my wife walking in the room when I was watching him pitch on TV, and she said, "My God, he has the biggest ass I've ever seen!" True, Sid was a wide load and couldn't cover first base if he had a jet pack on his back, but he really could pitch, if sometimes erratically.

I remember the game (I think it was against the Braves when they sucked) when he struck out 17 or so and still lost, somehting like 2-1 or 3-1. Sid did have his hard luck.
Brian Crigger
The one thing I'll always remember about El Sid was the one time I saw him steal second base in a game against who I don't remember. It took everyone by surprise! No one would've ever expected him to do anything like that, especially the opposing battery mates, which is why he made it!
Richie
January 22, 2001

I will forever wonder what Sid would have been capable of if he had weighed 30to 40 pounds less. His opponent's batting average was often among the lowest in the majors. I wish he had been in shape and capable of pitching a complete game once or twice. I will never forget his postseason contributions in
EG
February 14, 2001

If games were only 6 innings long, he'd be in the Hall. Given his shortcomings, was an excellent pitcher who clearly was the MVP if game 7 in 86. I never thought he had it in him.

Almost ran him over in the parking lot at Shea when he was walking doing a crossword puzzle and I wasn't looking where I was going.

Solid career.
David Diaz
February 22, 2001

Never forget his performance in Mid Relif Vs. the Red Chockers Sox at Shea in 86
Coach HoJo 20
March 23, 2001

Sid Vicious is the Man. That's what I'd be saying right now if he didn't sign a minor league deal with the Yankees!!!! I rib my friend who is a die hard Yankees fan (a real Yankee fan not a 96 band wagon jumper) about the Yankees signing all the Mets players. It started off as just a rib because they signed Doc and Staw but now it isnt funny anymore. Its scary how true the rib has become. My question for Adolf Steinbrenner is who's next? How long will it be until your knocking on Charlie O'briens door???

I really hate you Adolf Steinbrenner!!!
Mr. Sparkle
April 27, 2001

We're safe, Sid officially retired the other day. Thank God!! Now it's back to eating poi on the beach in Honolulu!
Coach HoJo 20
April 27, 2001

My prayers have been answered!!! Now the only prayer that God has to answer is that one about the World Series..... but that's another story.
Me
July 11, 2001

Ahhh, warm and fuzzy Sid. I'm still disappointed about him joining the satanic spawns from the Bronx. During the spring, he wore #36, Cone's old number. Just another symbolic reminder of how the Yankees have gotten their hooks into some of the old Mets. Well, screw the Yankees. Aloha, Sid...and best of luck to you.
JellyNadz
August 26, 2001

I remember watching Mets Baseball 9 1 time, it was a night game in San Diego. He went to sacrafice the runner from 2nd to 3rd. It was a bad but and the play went to third, the Puds got the runner at third and then because El Sid ran up the 3rd base line instead of the 1st base line they turned 2. I think mark Carreon got hurt in that game too. Anyway, what a player. I think that #50 on his back was neither to commerate his homeland or his waistsize, it was and indicator on how many earthquakes he caused by running the basepaths in NY.. What a hell of a pitcher though...
David M.
December 8, 2001

Big Sid was a good pitcher and a good man. I hope he is having fun in Hawaii right now.
straghtjacketk
July 23, 2002

Queston: Who do you think would win the heavyweight sumo match between El Sid and Big Mo? I should be more respectful of Sid though, he pitched a complete-game shutout against the Cubs on September 26, 1993, my first game as an eight-year-old Met fan, and is one of the reasons I have become as rabid a fan as I am.
Joe
August 13, 2002

He was and is a loser. Wasn't smart enough or disciplined enought to keep his weight down. So he ended his career desperately trying to get hired.
Frank Grimes
August 16, 2002

Was and is a loser??? No way, Sid was awesome. He may not have been a rocket scientist but he was 20 games over .500 for his Mets career and had a 3.14 ERA. At times he was absolutely dominating. He may have hit the wall in some games and lost it but overall he was great. His career may not have ended to your liking but Sid's no loser!
Mr. Met
August 22, 2002

El Sid was the MVP of the '86 series for his Game 7 performance - Period. Apologies to Ray Knight and his great series, but without Sid's stellar relief work, the Curse of the Babe would have been dispelled after the Miracle of Game 6. It was always a pleasure watching him and his awkward delivery blow away the opposition - and he was a pretty good hitter too.
Danny
September 11, 2002

Sid was one of the most underrated pitchers of the 80's. Despite his weight problem, the big kahunna had a 95 mph fastball, a curve ball that fell off the table,and he always had a chance to strikeout 200 every year. In no way shape or form was he a loser. He has a good lifetime record and a good E.R.A. He was a good pitcher and a great guy. He was also my idol. He was inspiration to us overweight kids who played baseball. #50 is #1 in my book.
Jujo
December 27, 2002

Sid is an all-time Met and like some other unsung heroes (Matlack, Darling, Alfonzo etc.) should be in the Met Hall of Fame. It was always a pleasure to watch him pitch-when he did I expected the Mets to win and they usually did.
flushing flash
January 9, 2003

I always thought he would be the first Met pitcher to throw a no-hitter. One of the stingiest pitchers of all time in terms of hits allowed. That herky-jerky motion would throw batters off their timing. He deserves a spot in the Mets Hall of Fame on merit, as well as on his two votes in this year's Hall of Fame balloting. Way to go, Sid! Congrats!
johnmn55
January 24, 2003

I remember the Mets announcers saying a few years into Sid's tenure that he had the lowest hits to innings pitched ratio lifetime of any pitcher in major league history! So why were his ERA and W-L just good and not overwhelming. Well, Sid would only give up 4 hits in 9 innings, but they all would come in the same inning with a few walks between them! He never got over that. Still, a darn good pitcher.
Maxwell Kates
April 5, 2003

I think Sid wore number 50 because he was a fan of "Hawaii Five-O." Cook 'em, Dano. My best memory of Sid was waiting how long it took to watch him get out of a cab. We could have all shared a Mo-Licious in the time it took for him to get out. And speaking of Flaming Mo, I think they'd both lose to Bobby Bonilla.
Brian Owen
May 6, 2003

I was heartbroken when he tried to make a comeback with the Yankees.
Eric Krupin
August 24, 2003

You had to love Sid! For the very reason that he was a fat mope just like you, yet still a scarily phenomenal pitcher.

How good was he? Chew on this one: in fifteen seasons of pitching, the batters he faced had a collective average of .209. .209! Even Whitey Ford, considered the best left-hander in New York history, let them hit .235 over sixteen seasons.
Shari
August 29, 2003

I didn't remember just how great of a pitcher El Sid was until I saw the re-broadcast of Game 7 of the 1986 World Series. I don't think I've seen the game in it's entirety since watching it live. Sid came in for Ron Darling and just dominated-and kept the Mets hopes and spirits up by pitching brilliantly. He turned the team around and gave them their confidence back and the rest of the magic was history.
jay
October 28, 2003

I was looking over his ERA, and I realized his highest in his Met career was 3.81, which is great by today's standards.
Bob P
November 1, 2003

Sid's stats give you a great indication as to one of the ways the game has changed over the last fifteen years since he was in his prime.

The main knock on Sid was that because he was so-- shall we say--big, he would run out of gas and was never able to go nine innings. Well, in Sid's career he started 250 games as a Met and completed 23 of them, or about 9% of his starts.

In 2002 there were 2,588 game starts by NL pitchers with a total of 99 complete games. That's a complete game percentage of less than 4%.

So by today's standards, Sid was a workhorse!
Rev Matt
May 26, 2004

My theory on Sid is that the extra weight is what made him more effective. The deceptive windup and the way he hid the ball wouldn't work if he was fifty pounds lighter. Then he'd be just another guy with an 88 mph fastball. The weight did, however, affect his effectiveness beyond six innings. But nowadays there are more middle relief specialists and six innings of two hit ball is nothing to sneeze at.

Game 7 puts him with Mookie and Jesse in the all-time Met miracle category. You've gotta love a player like El Sid.

Thanks for the memories!
Jonathan Stern
August 28, 2004

Like many who have been in his position, El Sid was furious with his manager for putting him into the bullpen for the World Series. After regaining his composure, Fernandez did what all professional pitchers should do: he took his anger out on the other team. More smoke came out of his ears in Game 7 '86 than from his arm, but he was unhittable that night. As soon as he showed up, there was no question that the series was ours. One of the greatest clutch pitching performances ever!

I don't see how any Mets fan could not like this guy. I know I admired him greatly. One thing, though. I have battled weight problems over the last seven or eight years. Once, when I was at my heaviest, I stepped into an elevator that already had two men in it. Immediately, one of the guys pointed at me and shouted in total seriousness, "Hey! You're Sid Fernandez aren't you?"

I didn't know whether to be flattered or insulted.
Kiwiwriter
September 12, 2004

Sid was great. He was a great pitcher and a great character.

I covered the game in 1985 where he fanned 15 guys, and won the no-hit pool. I think he served up the hit in the sixth inning.

He was not the brightest light in the chandelier, though. Apparently he believed WWF was real.

In 1992, he said to Bob Klapisch, "They treat me like a dog," and the Daily News put a cartoon of "El Sid" in "El Doghouse," with a plate of "El Grub." The real El Sid was el furioso, and what made him really upset was the cartoon, of course. He bellowed at reporters, "Why did Klapisch do that cartoon of me?"

He didn't understand that the cartoon was ordered by Klapisch's editor and done by a house cartoonist. He thought Klapisch was a one-man newspaper.

El Sid was a big heavy-metal fan, if I recall.
Gary
March 3, 2005

All you clowns that complained about Sid's waistline: why don't you figure out that he was here to win games and pitch well, not be a male model. And he was the most under-rated, and under-appreciated pitcher on the Mets during the 80's.
Mark
May 4, 2005

Sid was a solid member of the rotation for a number of years. In addition to running out of steam late in games, it also seemed that Sid generally wore down late in the season. I forgot about that complete game shutout he threw one year in September. But I agree with the poster above - Sid's relief appearance in game 7 vs. the Red Sox was key to winning that game. Thanks Sid!
Tony B
July 21, 2005

His 1986 Game 7 World Series appearance was the most dominating pitching performance I have ever seen. The Bosox had no chance while he was throwing lasers.
Lifelong Fan
July 25, 2005

A tremendous talent. Many great memories, but who could forget him in the '86 World Series. He baffled the Sox. I totally disagreed with Davey Johnson who didn't start him in the W.S. I don't think he even had him start in the playoffs. He made the Sox batters look so stupid, that you were so psyched up, you forgot the Mets were losing. He's the one who turned it around.
VIBaseball
July 27, 2005

Actually, El Sid did start Game 4 of the '86 playoffs against the Astros. I was there, it was a letdown after the Nails homer off Dave Smith the day before. Sid pitched well enough to lose 3-1, giving up homers to Dickie Thon (who'd come back after his '83 beaning by Mike Torrez) and Alan Ashby (!).
Mike
August 27, 2005

Unfortunately my memories of Sid Fernandez come mainly from the 1986 World Series highlight video (the one with NBC's announcing crew) and "1986 Mets: A Year To Remember", as well as from "The Bad Guys Won", the new book about the 86 Mets. I saw him pitch in person a couple of times late in his career, once against Colorado in a game that Ryan Thompson won with a homer, and I loved watching his delivery. Two other Sid stories that I found interesting, both from "The Bad Guys Won", were the ones about him not buying a house because he did not understand the concept of a mortgage. He thought he had to pay it all at once, and Davey Johnson was the one to enlighten Sid. The other one was about how Sid thought that the WWF (now the WWE) was real. He was an awesome Met, and, as many have noted, without him we wouldn't have won game 7 against Boston.
5280MetsFan
February 18, 2006

I will always remember Sid for the 86 series.The way he handled the Red Sox still feels like he did it yesterday (not 20 years ago). Thanks, El Sid. I feel you're still under-appreciated for that achievement.
Bonbolito
February 22, 2006

I thought for sure that he would get the first Met no hitter. It just made sense. Now I pull for every potbellied pitcher we get.
brysontn
March 15, 2006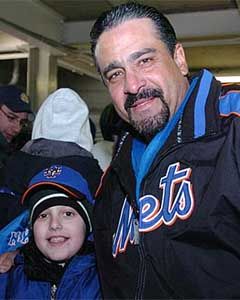 Sid Fernandez visits with Mets fans at Shea Stadium in spring of 2006.

Sid, not known for his speed on the basepaths hit a ball into deep right field during a nationaly televised game with Vin Scully doing the call. "Here comes Fernandez on his surfboard into third base and he's safe!" (Sid bellyflopped it into the bag!)
Putbeds 1986
March 17, 2006

Saw a photo of Sid on Mets.com recently when he greeted the frozen diehards at Shea waiting for single-game tickets to go on sale. When did he morph into Wolfman Jack all of a sudden?

By the way, I used to think that WWF/WWE wrestling was real, too. Here's hoping Sid will be at Shea for the 20th Anniversary Party on August 19th; I'll be there. Me and my friend Kathy have already secured our seats.
JFK
March 24, 2006

I saw Sid one day before a game behind the right-centerfield wall getting hot dogs from an usher.

You knew that he would be dominant for the first 5 innings and then hold your breath once the 6th started because he was prone to a complete meltdown.

His Game 7 performance in the WS saved the Mets bacon.
Kaz911
May 13, 2006

I had the pleasure of watching Sid play AA ball in San Antonio while he was still in the Dodger organization and recall thinking that I was seeing the start of something big. I guess I was right.
Mr. T
August 6, 2006

I've followed the Mets since 62. I've seen them come and go. But of all the Boys of Flushing no one compares to Sid. He was in a league of his own. Wider than a jumbo jet, Sid made average people feel that they too could take the mound and succeed. What made him such a force on the mound was that his curve seem to come from out of the Mets dugout at about 30 mph, then his fastball at 89 seemed to come on to you more like it was 200 mph-no time to adjust-yer out. But Sid did have one vapor lock, like who doesn't, when on the pitch his hat came off just as the batter bunted. Rather than field the bunt he went after his hat. By the time he realized his goof the runner was safe and big inning was under way. But that's nothing. Without him, Boston may have won the 86 Series. Lets Go Mets.
Mike A.
November 29, 2007

My first ever game at Shea as a spectator was July 1, 1985. Sid Fernandez was the starter and hard-luck loser, 1-0 to an overweight Rick Rueschel and the Bucs.

The Mets were in a all-around slump at the time. The next night they won and went on a 10-game winning streak and challenged the Cards the rest of the way.

Other memorable thing about this game was that a fan fell into the Pirates bullpen from the Loge deck early in the game, but play was not stopped. Never found out if the poor guy was OK.
JFK
December 29, 2007

I have read that Sid was not the brightest person in the world, including comments from Davey Johnson. However to buy steriods 8 years after you last pitched in a baseball game is extremely baffling to me.
Michael
October 27, 2008

One of the MOST unhittable pitchers of all time, and you can look it up.
pockmarx
April 3, 2009

My all time favorite Sid story was when the Mets were going to speak to him about his beer and soda drinking habits. I wondered what that could have meant. Did Sid mix his soda and beer into one can creating Sids Famous BeerSoda, The Drink That Always Pleases? As my grandfather would say. "His butt was two axe handles wide."
community chest
March 22, 2011

To this day I can't hear the Hawaii Five-O theme without thinking of Sid warming up on the mound at Shea.
Dave
June 19, 2012

El-Sid, 7th game 1986 WS! 4 strikeouts. That was absolutely amazing! And his delivery. How could anyone see the pitch coming? I don't care if it was only in the 80's. You didn't see it till the last moment. Why he rarely got run support I'll never know. Just seems like an all around nice, humble guy. I'm glad he was a Met.