Search the thousands of Mets players, managers, coaches, executives, minor leaguers, and opposing players who are contained in our database.
Pedro Feliciano
Ultimate Mets Database popularity ranking: 327 of 1043 players
Pedro Juan Feliciano
Born: August 25, 1976 at Rio Piedras, P.R.
Throws: Left Bats: Left
Height: 5.10 Weight: 185

Pedro Feliciano was the most popular Ultimate Mets Database daily lookup on September 5, 2017.



First Mets game: September 4, 2002
Last Mets game: September 28, 2013






Established a Mets season record for Games in 2008 with 86 and in 2009 with 88.

Minor League Pitching Record
| | | | | | | | | | | | | | | | | | |
| --- | --- | --- | --- | --- | --- | --- | --- | --- | --- | --- | --- | --- | --- | --- | --- | --- | --- |
| Year | Team | G | IP | W | L | Pct. | H | R | ER | HR | SO | BB | GS | CG | ShO | Sv | ERA |
| 2002 | Norfolk (AAA) | 5 | 9.0 | 0 | 0 | 0.000 | 14 | 7 | 7 | 1 | 11 | 1 | 0 | 0 | 0 | 2 | 7.00 |
| 2003 | Norfolk (AAA) | 15 | 22.2 | 3 | 2 | 0.600 | 20 | 10 | 10 | 3 | 18 | 6 | 0 | 0 | 0 | 1 | 3.97 |
| 2004 | Norfolk (AAA) | 32 | 35.2 | 4 | 3 | 0.571 | 35 | 25 | 21 | 4 | 25 | 15 | 0 | 0 | 0 | 2 | 5.30 |
| 2006 | Norfolk (AAA) | 3 | 4.1 | 0 | 0 | 0.000 | 4 | 3 | 3 | 1 | 5 | 1 | 0 | 0 | 0 | 0 | 6.23 |
| 2013 | St. Lucie (A) | 5 | 4.2 | 0 | 0 | 0.000 | 5 | 3 | 1 | 0 | 4 | 2 | 0 | 0 | 0 | 0 | 1.93 |
| 2013 | Binghamton (AA) | 14 | 14.1 | 0 | 0 | 0.000 | 9 | 2 | 2 | 0 | 14 | 2 | 0 | 0 | 0 | 0 | 1.26 |
| 2013 | Las Vegas (AAA) | 3 | 2.0 | 0 | 0 | 0.000 | 0 | 0 | 0 | 0 | 1 | 0 | 0 | 0 | 0 | 1 | 0.00 |
Minor League Batting Record
| | | | | | | | | | | | | | | | | | | | | | |
| --- | --- | --- | --- | --- | --- | --- | --- | --- | --- | --- | --- | --- | --- | --- | --- | --- | --- | --- | --- | --- | --- |
| Year | Team | G | AB | R | H | 2B | 3B | HR | RBI | BB | IBB | SO | HBP | SB | CS | SH | SF | TB | Avg. | Slg. | OBP |
| 2003 | Norfolk (AAA) | 15 | 1 | 0 | 0 | 0 | 0 | 0 | 0 | 0 | 0 | 1 | 0 | 0 | 0 | 0 | 0 | 0 | .000 | .000 | .000 |
| 2013 | Binghamton (AA) | 3 | 0 | 0 | 0 | 0 | 0 | 0 | 0 | 0 | -- | 0 | -- | 0 | 0 | 0 | 0 | 0 | -- | -- | -- |
| 2013 | Las Vegas (AAA) | 1 | 0 | 0 | 0 | 0 | 0 | 0 | 0 | 0 | 0 | 0 | -- | 0 | 0 | 0 | 0 | 0 | -- | -- | -- |
Pedro Feliciano played for the following teams in the Mets organization:
Norfolk Tides 2002 - 2004, 2006; Binghamton Mets 2013; St. Lucie Mets 2013; Las Vegas 51s 2013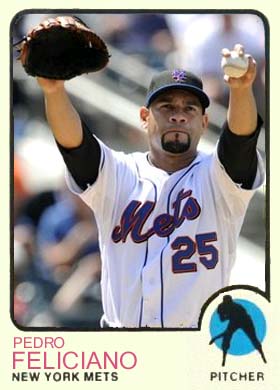 1973 Pedro Feliciano
Copyright 1999-2018, The Ultimate Mets Database