Search the thousands of Mets players, managers, coaches, executives, minor leaguers, and opposing players who are contained in our database.
Josh Edgin
Ultimate Mets Database popularity ranking: 949 of 1043 players
Joshua Wayne Edgin
Born: December 17, 1986 at Lewiston, Pa.
Throws: Left Bats: Right
Height: 6.01 Weight: 225



First Mets game: July 13, 2012
Last Mets game: July 28, 2017






Selected by New York Mets organization in 30th round of free agent draft on June 7, 2010.
Pitching Record with New York Mets
| | | | | | | | | | | | | | | | | |
| --- | --- | --- | --- | --- | --- | --- | --- | --- | --- | --- | --- | --- | --- | --- | --- | --- |
| Year | G | IP | W | L | Pct. | H | R | ER | HR | SO | BB | GS | CG | ShO | Sv | ERA |
| 2012 | 34 | 25.2 | 1 | 2 | 0.333 | 19 | 14 | 13 | 5 | 30 | 10 | 0 | 0 | 0 | 0 | 4.56 |
| 2013 | 34 | 28.2 | 1 | 1 | 0.500 | 26 | 12 | 12 | 2 | 20 | 12 | 0 | 0 | 0 | 1 | 3.77 |
| 2014 | 47 | 27.1 | 1 | 0 | 1.000 | 19 | 6 | 4 | 2 | 28 | 6 | 0 | 0 | 0 | 0 | 1.32 |
| 2016 | 16 | 10.1 | 1 | 0 | 1.000 | 10 | 6 | 6 | 1 | 11 | 6 | 0 | 0 | 0 | 0 | 5.23 |
| 2017 | 46 | 37.0 | 0 | 1 | 0.000 | 39 | 16 | 15 | 3 | 27 | 18 | 0 | 0 | 0 | 1 | 3.65 |
| 5 years | 177 | 129.0 | 4 | 4 | 0.500 | 113 | 54 | 50 | 13 | 116 | 52 | 0 | 0 | 0 | 2 | 3.49 |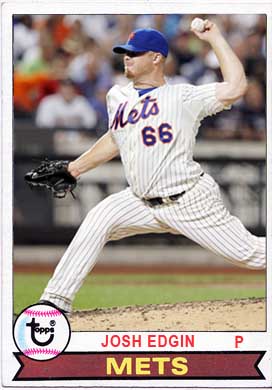 1979 Josh Edgin
| | | | | | |
| --- | --- | --- | --- | --- | --- |
| | Meet the Mets | Games | Stats | Metscellaneous | About Us |
Copyright 1999-2017, The Ultimate Mets Database