Marlon Byrd
Ultimate Mets Database popularity ranking: 896 of 1043 players
Marlon Jerrard Byrd
Born: August 30, 1977 at Boynton Beach, Fla.
Throws: Right Bats: Right
Height: 6.00 Weight: 225



First Mets game: April 1, 2013
Last Mets game: August 26, 2013






| | |
| --- | --- |
| Uniform Number: | |

Click the icon to see a graph of Marlon Byrd's batting, slugging, and on base percentages

Batting Record with New York Mets
| | | | | | | | | | | | | | | | | | | | | |
| --- | --- | --- | --- | --- | --- | --- | --- | --- | --- | --- | --- | --- | --- | --- | --- | --- | --- | --- | --- | --- |
| Year | G | AB | R | H | 2B | 3B | HR | RBI | BB | IBB | SO | HBP | SB | CS | SH | SF | TB | Avg. | Slg. | OBP |
| 2013 | 117 | 425 | 61 | 121 | 26 | 5 | 21 | 71 | 25 | 2 | 124 | 7 | 2 | 4 | 1 | 6 | 220 | .285 | .518 | .330 |
| 1 year | 117 | 425 | 61 | 121 | 26 | 5 | 21 | 71 | 25 | 2 | 124 | 7 | 2 | 4 | 1 | 6 | 220 | .285 | .518 | .330 |
Led Mets in home runs with 21 in 2013.
Led Mets in strikeouts with 124 in 2013.
Led Mets in sacrifice flies with 6 in 2013.
Games where Marlon Byrd had 2 or more Home Runs
At Washington (NL) 06/05/13.
Games played by position
2013: Outfield 112, Right Field 111, Center Field 2
Lineup Analysis
Number of games in each batting order position in games in which Marlon Byrd was in the starting lineup.

| | | | | | | | | | |
| --- | --- | --- | --- | --- | --- | --- | --- | --- | --- |
| Year | 1st | 2nd | 3rd | 4th | 5th | 6th | 7th | 8th | 9th |
| 2013 | 0 | 0 | 11 | 51 | 23 | 14 | 6 | 0 | 0 |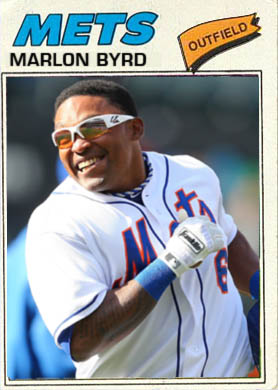 1977 Marlon Byrd
Copyright 1999-2018, The Ultimate Mets Database